Ankara, Turkey: The Turkish Ministry of Science, Industry and Technology today recognized Solvoyo for our innovative supply chain planning platform which helped our client - A101 Stores, a leading Turkish discount retailer, make dramatic gains in productivity and operating efficiencies transforming their supply chain performance.
As part of the Turkish government's important initiative to promote productivity gains in the private sector, the government recognized 163 companies across a wide array of industries for successfully implementing projects and process improvements that helped each of them make significant productivity gains over the last 12 months. From this pool of companies, Solvoyo together with 2 other leading Turkish companies, multi-purpose cable maker Pyrsmian and household appliance maker Arcelik, were recognized as the winner in the respective categories of SMB, Large-Scale and Multinational Enterprise respectively.
A101 Stores is one of Turkey's largest and the fastest growing retailer. With its fast growth pace, A101 was experiencing lower inventory turn rates yet seeing higher stock-outs at stores. A101 selected Solvoyo as its technology partner to implement a supply chain planning automation and optimization project.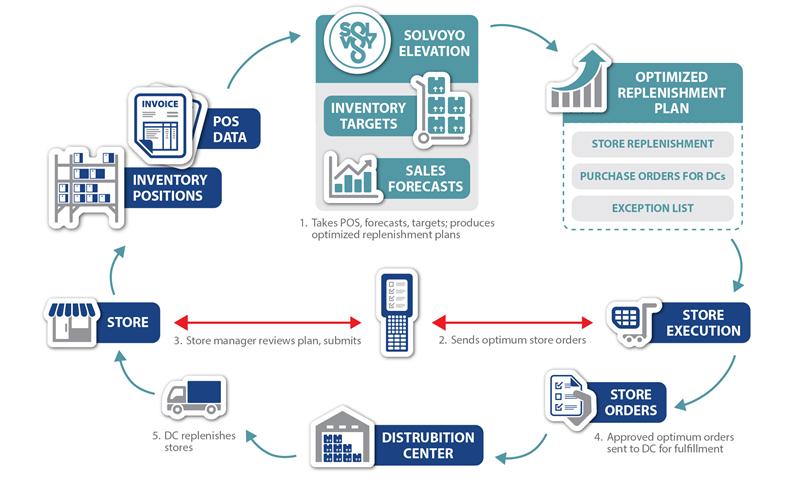 Using our 'Closed-Loop Operational Management' (CLOM) approach anchored on Solvoyo's innovative end-to-end supply chain planning 'Elevation Platform', within six months of the start of the project, A101 was able to boost planning process productivity, decrease inventory investmnet in the system drastically while increasing shelf availabilities at stores. The end result was dramatic efficiency improvement for A101's large network of 31 DCs and 5000+ stores while serving its customers better.
Reflecting on the award as well as the successful impact Solvoyo has had at A101 Stores, Koray Dogan – CEO and Founder of Solvoyo said, "For Solvoyo, it is a great excitement to accompany companies like A101 in their journey to profitable growth through continuous improvement in end-to-end supply chain planning and be recognized so publicly for what we consider quiet yet critical back-end planning and automation work."
For more information about how Solvoyo helped A101 transform their supply chain planning, please visit: www.solvoyo.com/resources/a101-case-study.
About Solvoyo
Solvoyo is the next generation supply chain planning and optimization platform built for the digital revolution in the supply chain world. Solvoyo helps companies close the gap between planning and execution. Our all-in-one platform forecasts demand, optimizes inventory, plans production, replenishes networks, fulfills orders, and concurrently optimizes transportation plans. Solvoyo is currently the only planning platform that allows companies to plan their strategic, tactical and operational level supply chain actions in one tool. The scalability, analytical capabilities and quick implementation cycles of our true cloud based platform help our clients quickly achieve dramatic improvements in supply chain performance. We are headquartered in Boston, MA with our R&D center in Istanbul, Turkey. For more information, please visitwww.solvoyo.com and follow us on Twitter and LinkedIn.